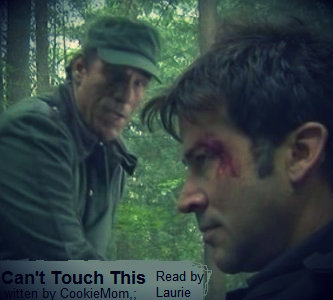 Fic: Can't Touch This by Cookiemom6067 (text link)
Fandom: Stargate Atlantis
Pairing: Gen. CharactersJohn Sheppard, Acastus Koyla, Patrick Sheppard
Summary: John was fifteen the summer he grew up.
Notes: Recorded for Multipodicity 2011
Posted: 09/11/2011
Rating Teen. Non graphic description of torture.
This story was originally podficced by Cookiemom6067 and can be downloaded HERE
Download Music Version: MP3 at Megaupload 20.4(MBs) ||| Length: 00:22.20
Download Non Music Version: MP3 at Megaupload 19.7(MBs) ||| Length: 00:21.29
Note: A huge THANK YOU goes to Paraka, for setting me up with this website and taking time out of her busy life to write me scads of emails to walk me through this posting process.
Laurie